Greetings!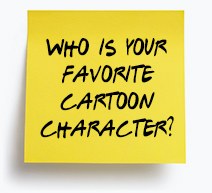 Do you have a favorite cartoon character?

Growing up, I had an affinity for Charlie Brown of the Peanuts gang. Something about his determination and hopeful spirit that kept him trying despite repeated failures resonated with me (yes, I'm talking about Lucy pulling away the football every time Charlie Brown tried to kick it!). No matter what, he kept at it.

Why are cartoon characters so beloved? What characteristics make them likeable and inspirational? What characteristics make them bold?

Clearly, it's more about personality traits than looks. Sure, Mickey Mouse is cute, but who wants to be an anthropomorphic mouse? And I can't imagine anyone wanting to look like Homer Simpson or Fred Flintstone–never mind Goofy!

But these cartoon characters are beloved because of who they are and, through their actions, what they represent to us.

They're always facing challenges, yet they never give up. Homer Simpson dutifully works a mind-numbing job at Mr. Burns' nuclear power plant and Fred Flintstone sits atop a dinosaur breaking rocks at the quarry with the Bold Goal of giving their families a better life in mind. They persevere–even when the problems are of their own making!

Shouldn't we all aspire to be like them in certain respects?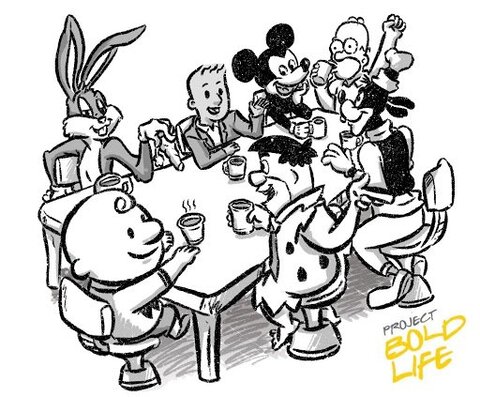 When I created Boldy for my book, the idea was that he would play the role of the everyman embarking on a journey toward a Bold Life. Like Charlie Brown, he would be optimistic and hopeful but he would be different. He would have a thoughtful plan to reach his success and develop a support team to help him. I wanted him to resonate with readers who would be starting similar journeys of their own.

I'm currently thinking of ways to explore more of Boldy's story–stay tuned.

I'm sure the creators of Charlie Brown, Bugs Bunny, Goofy and the rest had similar notions of how their traits would touch upon something in viewers. After all, Bugs Bunny is smart and resourceful, and Goofy–though goofy–is kind and friendly. Is there a little bit of these characters in all of us? I believe so.

Cartoon characters are popular because they connect to us personally. They often highlight traits that we want to develop more of in ourselves and give us a fun way to escape and do some self reflection.

Who is your favorite cartoon character? And why? I would love to hear from you.
Keep living Bold!
P.S. PROJECT BOLD LIFE: The Proven Formula to Take on Challenges and Achieve Happiness and Success is a complete system for planning your life to get what you want. It continues to hang out at a top seller in three categories: "Motivational Growth & Spirituality", "Personal Success & Spirituality" and "Management Skills". I hope you check it out if you have not purchased a copy.