Greetings!
Where will you be next year? Are you getting excited about the possibilities now that COVID restrictions are being lifted and infection numbers are trending lower? Can you feel enthusiasm picking up? More importantly, have you set some Bold Goals for yourself?
An important part of goal-setting is visualizing yourself in the future, particularly in terms of being who you want to be and where you want to be. Do you have an image of yourself in mind? Will you just let the next year happen or do you have a motivating goal of where you want to be next year?
Things are picking up for everyone, including me, and here are a few items just to give you some examples. The first is an editorial I wrote for the upcoming issue of the Diversity Business Review; it touches upon the shift businesses have undergone and how a remote workforce has opened the door to global diversity. Also, as I mentioned last week, I will be on a panel discussing diversity, equity and inclusion initiatives for a free webinar titled "Getting DEI Started: 5 Proven Steps for a Successful Launch". In addition, on Thursday I will be presenting to a group of corporate recruiters at the Diversity Recruitment Bootcamp for Fortune 1000 companies. "Creating Inspiring Goals… And the Secret Sauce in Accomplishing Them" is the topic and my discussion will encompass many of the key points from my book, PROJECT BOLD LIFE.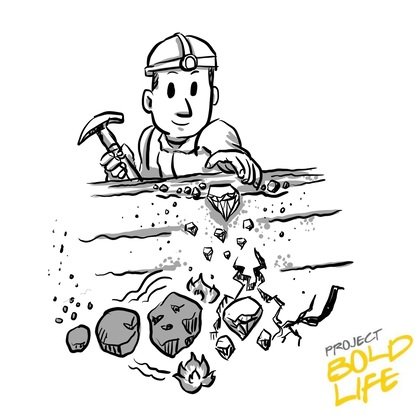 I'm sure things are getting busier for you, too, especially since we might all be able (and willing) to travel. But all this enthusiasm and flurry of activity leads us back to the question: Where will you be next year? Do you have a specific vision in mind? Do you have goals that will put you there, and steps to accomplish those goals?
For those of you who purchased my book, I hope you're progressing along with the worksheets, have your inspirations and goals narrowed down, and maybe even have an action plan in place. All of these things are essential components in creating the Bold Life you want to live for yourself. Remember: those who plan and actively pursue their goals tend to head in a direction of their choosing instead of letting the world control where they go.
Don't wait for the world to lead you. Dig deep and find that inspiration for yourself, and set your own course. Take the world on now with your own set of inspiring goals!
Keep living Bold!
Warmly,
P.S. Here are the details on Wednesday's webinar:
What: Getting DEI Started: 5 Proven Steps for a Successful Launch
When: March 24, 2021 at 3pm EST
Who: Ed Kopko, Pamela McElvane, Tina Ragland
P.S. PROJECT BOLD LIFE: The Proven Formula to Take on Challenges and Achieve Happiness and Success is a complete system for planning your life to get what you want. It continues to hang out at a top seller in three categories: "Motivational Growth & Spirituality", "Personal Success & Spirituality" and "Management Skills". I hope you check it out if you have not purchased a copy.