Greetings!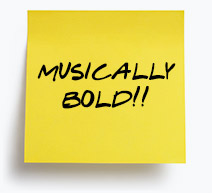 While working out this morning, I was listening to "Wild at Heart" by Anthem Academy, and some of the lyrics struck a chord.
"We could take on the world
We could be anything
Are you in, are you out?
Are you coming with me?"
In last week's Notes From Ed, I took a deep dive into inspiration. Inspiration comes from having deep meaning to your "why" and having a goal that is specific and stretch. However, a great way to boost that inspiration is through music–for example, a song that gets your blood pumping and pushes you to go a little harder in the gym.
Contrary to popular belief, a song unto itself is not a viable source of inspiration. For that, you need the aforementioned specific and stretch goals. But they can be great "attaboys" that serve as reminders about how your Bold Goals make you feel inside. They're boosts which, though temporary, can reinforce your "why" or help you step a little faster – and that's great!
In my book chapter about taking on challenges, I reference the lyrics from Kelly Clarkson's "Stronger" song, because what for sure what doesn't kill you makes you stronger! Challenges can toughen you up!
What other songs can serve as motivational boosts? Here are 10 that come to mind:
The "Rocky" Theme Song, by Bill Conti
"Empire State of Mind" by Jay-Z and Alicia Keys
"Roar" by Katy Perry
"Don't Stop Thinking About Tomorrow" by Fleetwood Mac
"Dog Days Are Over" by Florence + The Machine
"I Won't Back Down" by Tom Petty
"Firework" by Katy Perry
"Don't Stop Believin'" by Journey
"Best Day of My Life" by the American Authors
"Happy" by Pharrell Williams
Do your goals come from a source of inspiration
What's your fight song? Not everyone likes the pop music they hear on the radio, but you can fan the flames of motivation with almost any kind of music–even opera. Remember Richard Wagner's "Ride of the Valkyries"?
Let me know which music strikes a chord with you! Share your best inspirational song with me!
Live Musically Bold,
P.S. PROJECT BOLD LIFE: The Proven Formula to Take on Challenges and Achieve Happiness and Success–which is more than a book, it's an encompassing system to planning your life to get what you want–continued as a Top Seller in two categories this week, "Personal Success" and "Management Skills". I hope you check it out if you have not purchased a copy. And if you haven't purchased a copy, you can always download the first chapter for free!