My meditation journey is now 10 years old, and I can say the simple practice of meditation transformed my life.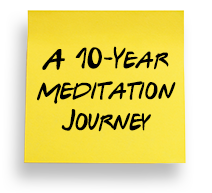 I had formally kicked it off with the purchase of the book "Deep Meditation" by Yogani in October of 2011. For the next six months I attempted–and I mean attempted–to meditate according to the principles of the book I purchased. It did not work!
I had given "do-it-yourself" meditation training a try and it was a bad idea. I felt I was not doing it correctly. I was beginning to internally say meditation was not for me and that I could not sit perfectly still for 20 minutes. I was expecting more from each meditation than I should have.
A little over six frustrating months later, I formally enrolled in a four-day weekend meditation training given by TM.org It was a truly altering experience for me and launched me on my now 10-year path of meditating. I truly recommend ™.org if you want to successfully introduce meditation into your life.
That was the first lesson learned: DIY meditation is a "no go". Get help.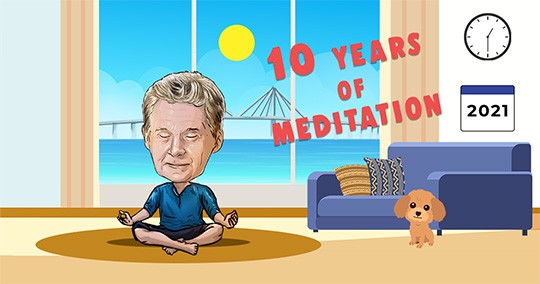 The second lesson is about the momentum created by streaks.
In early January of 2020, I hit a notable personal milestone: a streak of 365 days of consecutive meditation. There were some great lessons learned from that, which I wrote about in an article on the Project Bold Life website.
But my streak of meditation, which sometimes involved waking up early and sitting on my dock, but also involved doing it in the back of an Uber on the way to the airport, ended at 644 days. Sadly, the November 2020 Presidential Election, and all the uncertainty surrounding it, derailed me–I stayed up late to watch the results on Election Night, and the ensuing craziness ended up being a big distraction and rearranged my normal routine. My everyday meditation streak was broken. Whoever said elections don't matter got that wrong as it relates to my meditation. LOL!
I restarted my daily meditation immediately, and since restarting I've missed occasional sessions. I'm still passionate about getting my meditation in each day, but the momentum of the streak I had created for myself was great for pushing me. A streak, and how it makes it easy to stay on course and create a more permanent habit, is valuable for momentum. Momentum, and how it fuels inspiration, is great and can turn a conscious decision to do something regularly into an unconscious drive to keep going no matter what.
However, I still have a long-term routine that motivates me, and therein lies the third lesson learned.
At the end of the figurative day, despite missing a few sessions, people would still say I'm a serious meditator. The upside to breaking my streak of meditation is that I've learned what makes me fall off the horse: chaotic, disruptive days are apparently my weakness. I've also learned that while streaks are great, what matters most is keeping with the routine over the long-term.
In the big picture, I believe my 10 years of meditation has brought positive change to me. I believe I am more thoughtful, understanding and peaceful in my approach to everyday life. It has helped me keep a growth mindset front and center in everything I do. And there is no doubt: my journey of trying to find my better version of myself has been helped by my journey with transcendental meditation.
There are many improvements that I can pursue in life. Yet the pursuit of inner peace, I believe, is even more important as we age.
Ultimately, it's not about who you are, but who you choose to become, and meditation has helped me in becoming the best me I can be.
I hope these lessons inspire you. The simple practice of meditation helped transform my life, and they can do the same for you!
Keep living Bold!
Warmly,
P.S. Did you check out my story on Bold Business about the work-from-home vs. back-to-the-office debate? If not, check it out–it's a must-read!
P.P.S. PROJECT BOLD LIFE: The Proven Formula to Take on Challenges and Achieve Happiness and Success is a complete system for planning your life to get what you want, and has been a top seller in three categories: "Motivational Growth & Spirituality", "Personal Success & Spirituality" and "Management Skills". I hope you check it out if you have not purchased a copy.
P.P.P.S: I will be appearing on WCPT820 in Chicago at 7:00am CST on Saturday, November 6. I will be talking about FOMO versus JOMO, and how missing out can be better! Go to https://www.wcpt820.com to stream the show.