Greetings!
Since you're a Notes From Ed subscriber, I'm sharing this with you first: My digital store is up, which means I'm now able to distribute autographed copies of my book, PROJECT BOLD LIFE: The Proven Formula to Take on Challenges and Achieve Happiness and Success. In addition, I'm giving you a special code ("notesfromed", all lowercase) to buy the book for only $19.99–a first-time ever discount of over 25% off!
I know that many of you may have already purchased books and I hope you will find a reason to purchase an autographed copy. With a customized greeting, PROJECT BOLD LIFE would be a great gift for that son, daughter, niece, nephew or other beloved family member or friend looking to make their 2021 a year of happiness and success.
The book has a bunch of great, inspiring stories–including how one 23-year-old man set a goal to retire at 33 and accomplished it, despite never earning more than $60,000 in one year.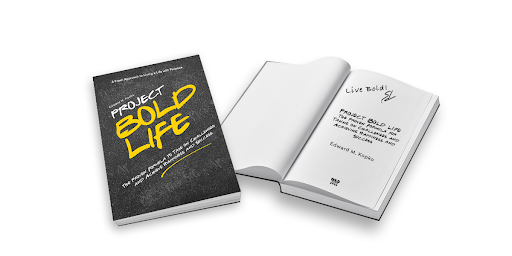 There's also the story of the mother who committed to getting her daughters into Ivy League schools. What was the secret to her accomplishing her goal? It's outlined in the book.
There's even a story about a grandmother who got her Ph.D. just before she turned 70–how did she do it? It's in the book.
You could even buy an autographed copy as a future collector's item.
As a subscriber to Notes From Ed, you have early access to these limited-edition autographed copies, and using the code will get you over 25% off! Type in "notesfromed" and it's just $19.99 for the gift of Bold!
Thanks for being a subscriber, and keep living Bold!
All the best,