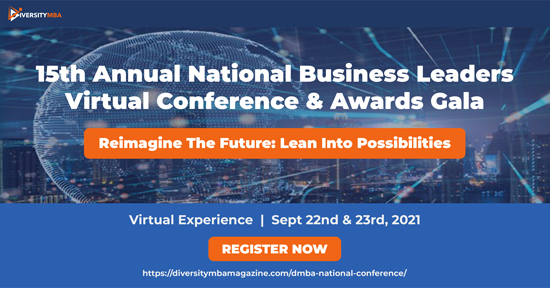 Greetings!
It's almost time to re-imagine the future and lean into possibilities with Diversity MBA's 15th Annual National Business Leaders Virtual Conference & Awards Gala, slated for Wednesday, September 22 and Thursday, September 23.Register for the conference here
Use code BOLD_NC21 to claim your free seat!
And even if you can't attend the event live, signing up gives you access to this great content for a year!
This virtual conference will have over 75 sessions featuring over 150 thought-leaders in the diversity, equity and inclusion space–including Bold Business CEO Ed Kopko, who will helm the Media Publishing Summit on Wednesday and the CEO Fireside Chat on Thursday.
The Media Publishing Summit Panel will include former pro basketball player Al Harrington and media executive Herb Scannell.
Harrington, through the prism of his NBA- and post-NBA experiences, will talk about his experience with diversity, equity and inclusion
Scannell will dive deep into DEI in the entertainment industry.
When and What:
Wednesday, Sept. 22, 8:30 am – 12:00 pm: The Media Publishing Summit
Thursday, Sept. 23, 10:15 am -11:15 am: The CEO Fireside Chat
Tune in to the conference, check out these sessions, and join the discussion!
Bold Business is a proud sponsor of the event.
Read more about Ed and Bold Business' thought-leadership on diversity, equity and inclusion.