Greetings!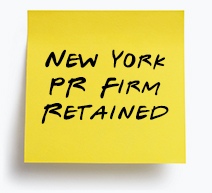 It's about to get real!
I now have a New York-based PR firm working with me for the final run-up to publishing my book, and the marketing home stretch is about to finally heat up!
Have you ever had a similar feeling of excitement? It's an exhilarating thing to have a project you've worked so hard on come to fruition. In fact, the harder you work, the sweeter the taste of accomplishment.
PROJECT BOLD LIFE: The Proven Formula to Take on Challenges and Achieving Happiness and Success will have Kimberly Escobar and her company Thursday Media in its corner, helping with event marketing and outreach. Navigating the publishing world's waters can be tricky, so I wanted to get creative with the virtual campaign. And Kimberly has the experience and track record to make magic happen. Already the first press release has been picked up by MarketWatch and other news outlets!
To read the full release, check it out here!
Stay tuned, stay healthy, and stay bold!
All the best,