Greetings!

If you haven't started your New Year's Resolutions yet, kudos to you! You're actually on track to succeed–more so than those who woke up on January 1 and dove head first into their goals!

I've written before about how "don't just do it" is the way to go, and that accomplishing your goals requires a multifaceted approach that incorporates a well-thought-out plan.

I've also cited author John Norcross, who, in his book Changeology: 5 Steps to Realizing Your Goals and Resolutions, highlighted the fact that the "just do it" crowd had a success rate of 4%, whereas those who didn't just do it–and took the additional steps of planning and preparations–had a 44% success rate.

So if you've held off on tackling those goals you set for yourself when 2021 was coming to a close and 2022 was right around the corner, well done! Because even if it's because you've been procrastinating, it's an opportunity to do the proper planning needed to increase your chances of success.

In case you don't know, when I wrote my book and laid out a goal-setting theory, I also put together almost a dozen worksheets to help readers iron out their Bold Goals and plans to accomplish them. You can download those worksheets for free here. Instructions are included, and when you take the time to fill them out, you'll find that you're fleshing out an important "big picture" and creating a system that will put you on the path to success. Remember: if you don't take these vital steps in the process, you're not giving yourself the best chance to succeed.
Here's an overview of the individual worksheets:
The Pillar Ranker: Do you know what's important to you? The Pillar Ranker will help you iron that out by fitting them into seven different areas.
The Pillar Planner: Now that you know what's important, what area should you focus on first? The Pillar Planner will enable you to figure that out.
The Goal Refiner: Now it's time to distill what you deem important into a "why" that will help you forge a Bold Goal.
Bold Goals Pros vs. Cons: Since the execution of a Bold Goal will likely have an upside and a downside, this worksheet will help you determine if the juice is worth the squeeze.
Building Block Plan Worksheet: This worksheet is especially important, as it aids you in visualizing the individual steps that will lead you up to reaching your Bold Goal.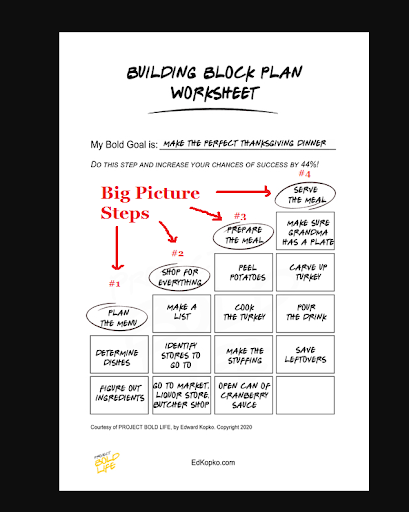 My Fall Off the Horse Plans: It's human nature to stumble and fall, so this worksheet prepares for that inevitability–and facilitates you getting back on the right track.
My Bold Commitment Worksheet: A public commitment and an accountability appointment are crucial for success, and this worksheet helps in both regards.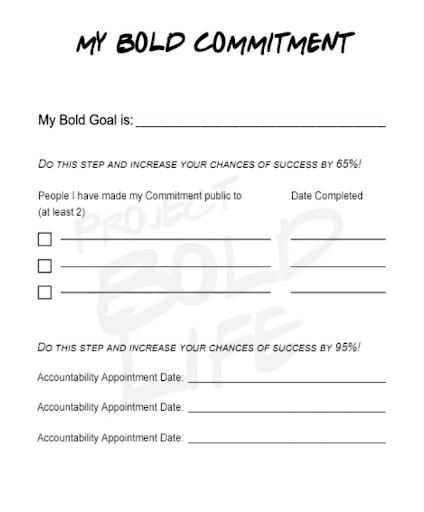 Bold Life Formula Worksheet: This crucial worksheet has much of the vital Bold Goal information, including why it's inspirational and the steps to take.
My Bold Goals Daily Plan: This worksheet breaks down the steps you need to take on a day-to-day basis.
My Bold Goals Monthly Plan: Here are the steps you need to take each month.
My Bold Goals Yearly Plan: Finally, here are the steps you need to take each year. After all, many Bold Goals can take a while to accomplish.
If you are serious about setting Bold Goals and accomplishing them, you will fill these worksheets out. Some of you may have already made a resolution and fallen off your horse. That's okay! It's not too late to do these worksheets and get back on the horse.
Warmly,
P.S. PROJECT BOLD LIFE: The Proven Formula to Take on Challenges and Achieve Happiness and Success is a complete system for planning your life to get what you want, and has been a top seller in three categories: "Motivational Growth & Spirituality", "Personal Success & Spirituality" and "Management Skills". I hope you check it out if you have not purchased a copy.