Greetings!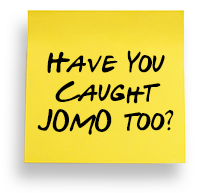 Covid is changing everything!  And it is changing us for the better!

Here's why:

The fear of missing out (FOMO) has long been a driving force in our connectivity to the world–to work, to social media, to so many things that can sometimes take away from our true enjoyment of what life has to offer. But COVID, the lockdowns, and the shift to working from home, gave us more time to ourselves. It's also given us JOMO!

JOMO, a.k.a, the joy of missing out, helps people appreciate simpler living. It comes from de-linking from the electronic devices that tether us to the online world, cutting out the tasks that are no longer a necessity, and with all the new free time, doing the things we enjoy. With more and more people spending some (or all) of their work week at home, JOMO is spreading.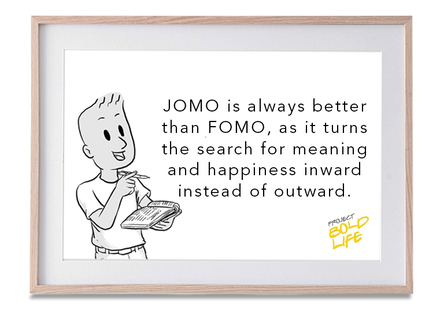 Now, lots of people are getting JOMO and they don't want to give it up.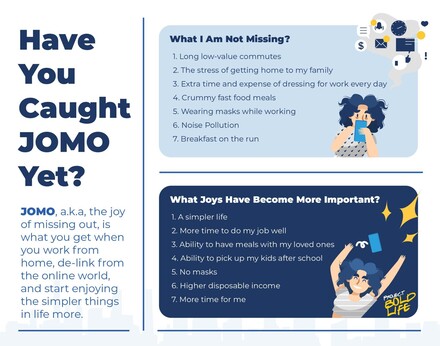 The JOMO concept is big enough that Google has designed a Digital Wellbeing app that breaks down the metrics of device usage, putting JOMO in the palm of your hand.

As I said before, this all came about because of COVID. Or, more specifically, the working from home COVID made us do, which provided a big reduction in non-productive routine time.

Non-productive routine time is anything outside of work or personal time that might be a required component of those things. Examples would be commuting (a big example!) or dropping off/picking up dry cleaning so you have clothes to wear at the office. We don't actually get paid to commute or deal with our dry cleaning. Therefore, it's considered non-productive routine time.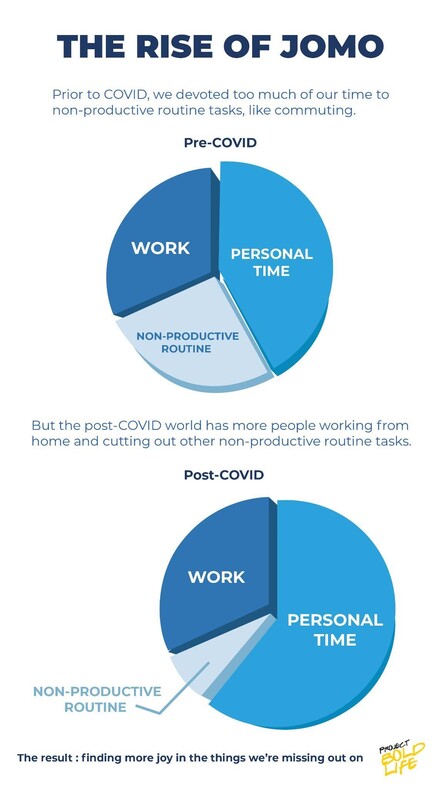 The pre-COVID world had a lot of non-productive routine time. Nowadays, after eliminating the routines that don't add any value to anybody, I'm getting more work and personal time. And time for inner reflection and JOMO!

Have you caught JOMO yet?

Long-term happiness can only come from within. JOMO will help get you there.
P.S. Did you check out my story on Bold Business about the work-from-home vs. back-to-the-office debate? If not, check it out–it's a must-read!
P.P.S. PROJECT BOLD LIFE: The Proven Formula to Take on Challenges and Achieve Happiness and Success is a complete system for planning your life to get what you want, and has been a top seller in three categories: "Motivational Growth & Spirituality", "Personal Success & Spirituality" and "Management Skills". I hope you check it out if you have not purchased a copy.
P.P.P.S: I will be appearing on WCPT820 in Chicago at 7:40 CST on Saturday, Oct 23. I will be talking about bad goals vs. inspiring goals and how people can improve happiness by understanding their "Why." Go to https://www.wcpt820.com to stream the show.