Greetings!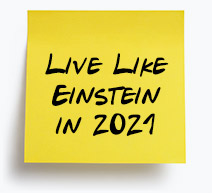 Albert Einstein, the famous German physicist who gave us the Theory of Relativity, had a pretty good handle on a lot of things. That includes the key to living a happy life. He said: "If you want to live a happy life, tie it to a goal, not to people or things."
That's right. According to Einstein, the key to a happy life is to have a goal.
Recently, I received an email from a website that promotes a goal-setting system. The system was pretty straightforward, with just a handful of steps in the process. It included setting the goal, making a plan, enacting the plan, and sticking to it. Unfortunately, that was it.
A complete system must–MUST–include more than that!
I previously discussed how inspiration is an essential ingredient in any goal. After all, without inspiration, the drive to accomplish that goal will inevitably peter out.
I also touched on how knowing your "why" is vital. That "why" is what really matters to you, and goes to the heart of your inspiration.
Of course, you can't forget that any system which advocates just jumping in and doing it is statistically dooming a participant to fail, and that in addition to an action plan, you need to make a commitment to someone and set up an accountability appointment.
When I was conceiving of PROJECT BOLD LIFE, and its goal-setting methodology, I wanted to maximize its success rate. And I know I did, because I included ALL the necessary steps required in setting and accomplishing Bold Goals, laying them out in worksheets.
Below is the final worksheet in the series: The Bold Life Formula Worksheet.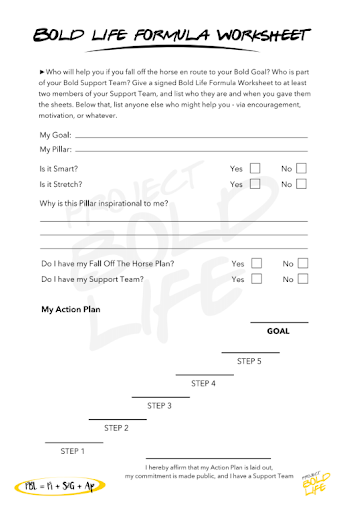 I won't go into great detail describing every aspect of it right now–that's a discussion for another time. But I will say that it encapsulates the different steps that absolutely must be taken to increase your odds of accomplishing your Bold Goals.
Remember: When it comes to success, there are no shortcuts… and when it comes to failure, there are lots of missed steps. Don't miss those important steps!
If what the famed physicist says is true, a goal is essential for happiness. Use this worksheet to help make your goal a reality.
Are you ready to be like Einstein and make 2021 a Bold year? I know I am!
All the best,
P.S. PROJECT BOLD LIFE: The Proven Formula to Take on Challenges and Achieve Happiness and Success is a complete system for planning your life to get what you want. It continues to hang out at a top seller in three categories: "Motivational Growth & Spirituality", "Personal Success & Spirituality" and "Management Skills". I hope you check it out if you have not purchased a copy. And if you haven't purchased a copy and want to learn more about it, you can always download the first chapter for free!
P.S.S. You can even get a PROJECT BOLD LIFE mug, so you can start your day off with a big cup of Bold!