Greetings!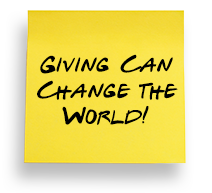 In my book, Project Bold Life: The Proven Formula to Take on Challenges and Achieve Happiness and Success, I write about how happiness is found in the Seven Pillars of a Bold Life.  
One of those pillars is giving back, and today I will discuss how you can permanently change your happiness level by one simple act born of kindness. That act is giving.
I am going to get some help from Jacqueline Way, Founder of 365 Give. Jacqueline has created a world movement that is looking to help more people become happier through kindness and giving.

Says Jacqueline: "Our bodies are hard-wired for giving. When we give, our endorphins kick in, giving us this natural high feeling. They actually call it the 'Helper's High.'"

Have you ever done random acts of kindness for strangers? We probably all have done them at some point, but have you ever thought about how they change the world? 
Have you thought about the impact these acts of kindness might have on the giver?  
Can the frequency of a person's giving and kindness make a long term difference in their own happiness and relationships?  
How do random acts of kindness affect our brains?
Jacqueline has spent some time figuring these questions out, and the evidence is clear: Regular giving and acts of kindness can change both you and the world.
The science stems from the oxytocin and serotonin that our brains produce when we're happy, and how those levels can stem the tide of cortisol, the endorphin produced when we're stressed.
When we do good deeds, we produce more oxytocin and serotonin, and less cortisol. 
Now multiply that by the number of good deeds your acts inspire others to do, and the good deeds their acts inspire. That's a lot of oxytocin and serotonin!
Bit by bit, your kindness toward others makes the world a better place.
According to a recent study by the Georgetown University Health Policy Institute:
By 2020, 5.6 million children have been diagnosed with anxiety
2.4 million have been diagnosed with depression. 
Unfortunately, only 80% of kids who needed mental health services got the services they needed.
I don't know about you, but that tells me that the world could use a lot of random acts of kindness to get those positive endorphins flowing!
Bold Business has long put a strong emphasis on fun. For example:
We celebrated National Pierogi Day last year, and had a cartoon made to commemorate the occasion 
My team produced a video of them singing karaoke to client, and there's another video of the team lip-syncing to a famous Queen song
Every team meeting on Friday to close out the week ends with joke (yes, these jokes are often cringe-y, but it's the thought that counts)
We revamped our website to accentuate the fun, with a page dedicated to explaining why fun is good for business
I have been doing my small, personal part in kindness and giving in many additional ways.
From profiling Buddhist monk Matthieu Ricard–the "World's Happiest Man"–to writing about the connection between workplace happiness and productivity, I've talked about fun, happiness and giving numerous times, and have written about it in these Notes From Ed.
So… what if your Bold Goal was to positively impact the world 365 days a year? Are you up for that?
365 days of giving back, kindness and spreading happiness would create a pretty big Helper's High–far more than if you just did these good deeds occasionally.
"They don't have to be big things. You don't have to volunteer hundreds of hours. You don't have to donate millions of dollars. It can be small, simple ways of giving back to our world. It can be a smile. It can be picking up garbage to help the planet. It could be helping a homeless person on the street or buying a coffee for the next person in line every day when you go to the coffee house. " – Jacqueline Way
What do you think–are you ready to commit to daily acts of kindness?
You can check out Jacqueline's website at www.365give.ca and find her TED Talk on YouTube. She has great resources and information on her site to help you in your journey of giving.
I also have a customized printable list of 36 ideas on EdKopko.com you can download that offers tons of good deeds you can do today at work, home , for children for the world to give you some inspiration., or get inspiration from. 
For example, to make the world a better place:
Show some compassion

Plant a tree and name it "Woody" 

Buy that stranger a cup of coffee–or a fancy latte if you're feeling magnanimous

Buy a child the biggest ice cream cone you can find

Help an elderly shopper with her bags

Let somebody cut in front of you in line
Check it out, and hopefully, you'll be motivated to spread some kindness out into the world.
Let's help de-stress the world and ourselves through giving.
Check out the "Do Something Good Today" free download!
Thank you for your interest! You have downloaded the pdf  for "Do Something Good today".