Greetings!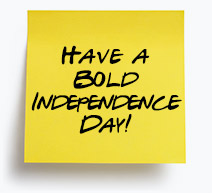 The Fourth of July is here!

It's one of the United States' grandest celebrations–the celebration of independence. There will be fireworks, barbecue and all manner of revelry. Do you know the best part? It all stems from the accomplishment of some very Bold Goals!

America's Founding Fathers had the lofty intentions of seeking freedom from the yoke of British rule and securing the independence needed to create their own destiny. And on July 4, 1776, Thomas Jefferson, John Adams, Benjamin Franklin, and the other members of the Second Continental Congress made a very public commitment to their Bold Goals by signing the Declaration of Independence. That public commitment was different from telling your friends and family you plan on running a marathon or getting a PhD–they were putting their lives at risk. Those are some high stakes, making that a pretty big public commitment!

(Don't forget the importance of that public commitment in the grand scheme of achieving Bold Goals. It's a key component.)

One and all, America's Founding Fathers–and the population of the Thirteen Colonies–would serve as each other's Fall Off the Horse Team, helping right the fledgling nation whenever it veered off course. They even enlisted Spain and France to serve as part of their Support Team.

Does any of this sound familiar? I'm not going to claim that America's Founding Fathers had the benefit of my PROJECT BOLD LIFE book when they created the United States of America, but when it comes to setting and achieving Bold Goals, they certainly took all the appropriate steps to secure success.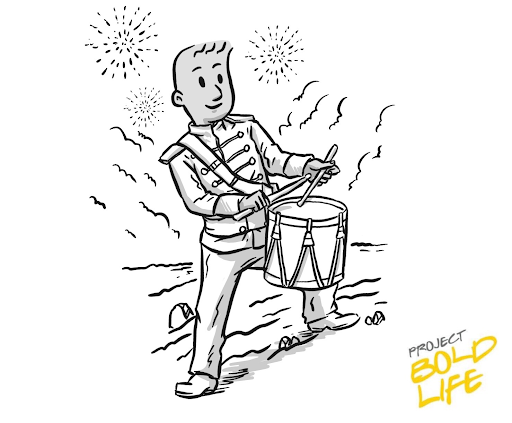 So have a great Independence Day weekend, and when you're sipping on your cool beverage, eating your hot dog, and spending quality time with your family, remember the Founding Fathers and how they achieved their Bold Goals.

Happy Fourth!
P.S. PROJECT BOLD LIFE: The Proven Formula to Take on Challenges and Achieve Happiness and Success is a complete system for planning your life to get what you want and has been a top seller in three categories: "Motivational Growth & Spirituality", "Personal Success & Spirituality" and "Management Skills". I hope you check it out if you have not purchased a copy.